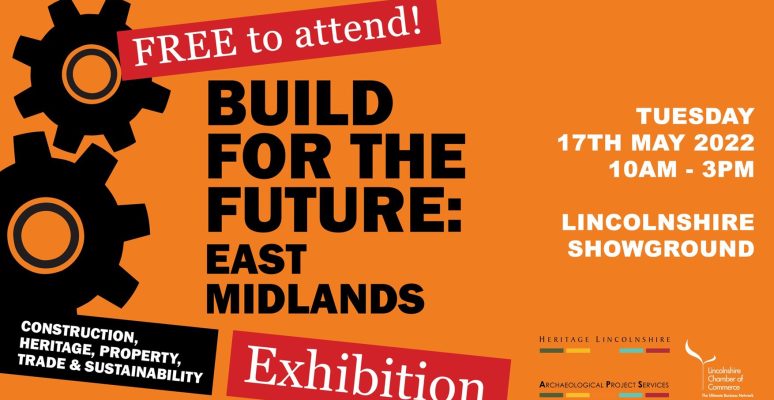 The team from the Flood Innovation Centre is attending a 'Build For The Future' event in Lincolnshire next Tuesday, 17 May to speak to business owners about the wealth of exciting opportunities available to them in the growing property flood resilience sector. They'll also be share information about the fully funded support they can offer to business owners keen to protect their premises, employees and other assets against the risk of flooding.
Taking place at Lincolnshire Showground near Lincoln, the event is hosted by Heritage Lincolnshire and Archaeological Project Services, working in partnership with Lincolnshire Chamber of Commerce, and is aimed at businesses in the construction, property, heritage, sustainability and trade industries across the East Midlands. Its main goal is to bring together businesses of all sizes and capacities in these sectors.
The Flood Innovation Centre is one of more than 60 exhibitors that have booked stands at the event and members of the team will be speaking to attendees as part of a varied and information programme of talks and seminars taking place throughout the day.
Earlier this year, the Flood Innovation Centre expanded the range of services it provides and can now offer fully funded support to Small to Medium Enterprises (SMEs) across parts of Yorkshire, Lincolnshire, Cumbria, Staffordshire and beyond.
"The level of flood risk that we all face is increasing due to climate change, and the Lincolnshire area will inevitably be hit by more frequent major flooding events in the years to come. We're looking forward to attending the Build For The Future event to speak to businesses working in the flood risk, survey and building and construction sector about how homes and commercial buildings can be better protected by property flood resilience measures, and how businesses in the area can benefit from moving into this growing industry." Pip Betts, Flood Innovation Centre Project Manager
Find out more information about Build For The Future.
Businesses that can't attend but would like to learn more about the support offered by the Flood Innovation Centre can telephone 01482 462275, email flic@hull.ac.uk or complete an online registration form at www.floodinnovation.co.uk/register.
---