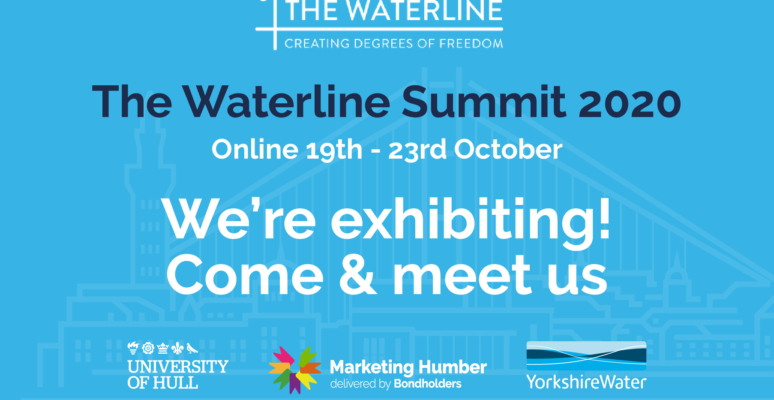 Tune in online 3pm Monday 19 October  

We're looking forward to exhibiting at this year's virtual Waterline Summit as part of the University of Hull's Business Support stand, spanning five days and five environmental themes from the 19–23 October 2020. 
We're also thrilled to announce that our Project Manager Pip Betts will be speaking at the event, focusing on the work the Flood Innovation Centre (FIC) is doing to support SMEs in the Humber to reduce flood risk and grow their business by innovating new products, processes and services in flood resilience. 
Showcasing the Humber's expertise in green innovation, the week-long event will be fully virtual and will focus on how to develop, finance and scale transformational projects upwards from policy through to operations.  
You will also hear from speakers from the Aura Innovation Centre and SparkFund, about the region's progress in helping to drive forward sustainable carbon-reducing ideas. 
Speaking of the event, Pip Betts said:  
 "We're delighted to be exhibiting for the first time at what promises to be the most illuminating and rewarding Waterline Summit yet. Rising flood risk due to climate change is one of the country's most pressing environmental challenges, so having the opportunity to build awareness of the FIC's work in flood resilience innovation and spread the word to SMEs looking to make a difference in this sector is something we're incredibly excited about."
Session title: Adapting and Collaborating in the Humber for a Sustainable Future – Green Innovation Transformation in Practice 
Date: Monday 19th October 2020, Waterline Summit 
Time: 3pm – 4pm 
Place: Online event 
Speakers:  
Pip Betts, Project Manager @ Flood Innovation Centre 
Louise Smith, Director @ Aura Innovation Centre 
Pauline Mitchell, Programme Manager @ SparkFund
Check out the event agenda here.  
Talks will be followed by a panel discussion and Q&A session, where participants will be able to share their own thoughts and questions and learn more about how they can get involved to get their sustainable ideas off the ground.  
To find out more and sign up to this unmissable event, click here. 
 —————– 
Join our upcoming webinar to learn how your business can tap into the growing Property Flood Resilience market 
Grow your business in the Property Flood Resilience Market – free 1 hour webinar 
Date: Wed 21 October 2020, Waterline Summit
Time: 11:30 – 12:30
Place: Online  
We're also hosting an online workshop designed to introduce you to growth opportunities in the emerging Property Flood Resilience sector and demonstrate how you can make a difference in building stronger, more flood-resilient communities. 
Book your place here  
Don't forget to follow us on Twitter and LinkedIn to keep up to date with all the latest news and events or sign up to our newsletter to get the latest updates straight into your inbox.  
Looking for support? Get in touch with the team or fill out one of our quick and easy registration forms today.  
---