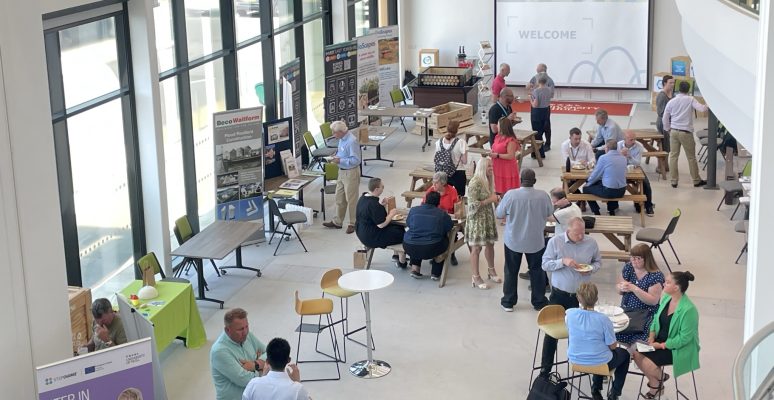 With our European Union funding coming to an end on 30 June 2023, we've been looking back at what we've achieved over the last four years and considering what sort of legacy we're leaving.
We're incredibly proud of the fact that we've engaged with more than 2500 businesses, charities, schools and other organisations during the lifespan of the project.
This includes supporting in excess of 250 businesses across the country with a broad range of projects, services and activities aimed at making our communities more resilient to flooding. Around 80 of these businesses have received expert advice, training and practical support to help them better protect their premises, staff, stock and other assets against threat of flooding. It's estimated that every £1 spent on flood resilience measures saves around £5 in damage to a business premises, which means that our work has potentially saved them millions of pounds in lost stock and income, clean-up costs and repair work.
Other businesses that we've worked with have drawn upon the team's wealth of expertise and resources to develop, test and launch innovative new flood resilience products and services. Major success stories include our role in the development of the ground-breaking FloodSafe House, which is designed to detect a flood event, triggering the house to rise above flood waters on a specially designed mechanical jack system, protecting both property and residents.
We've also supported a number of charities and Community Interest Companies (CICs) keen to boost their resilience to climate change with online and face-to-face training sessions to upskill their staff, directly impacting upon the communities that they work with. Several Community Interest Companies have received specialist support tailored to their individual needs to tackle flood-related problems that they were facing.
Many of the businesses that have received support from the Flood Innovation Centre demonstrated their products and services at our Flood Innovation Showcase event, which took place earlier this month and was a wonderful opportunity to come together to celebrate our achievements. We're proud to have received some fantastic feedback from many of the organisations we've supported too. Here are a just few examples:
"Canopy Drones has been really privileged to work with the Flood Innovation Centre. The support we've had from Chun and the team has made it possible to take our business to the next level and invest in cutting-edge technology."

The Canopy Drones team set up their drone equipment

---
"I can't tell you how much the Barefoot Kitchen Community Interest Company has benefitted from our involvement with the Flood Innovation Centre. We've been able to share flood awareness and mitigation measures within our communities, help people grow food in a much less water dependent way and we've been able to connect with so many interesting and useful people."
---
"The Flood Innovation Centre's equipment is cutting-edge; we are privileged to be getting the benefit of it."
---
"Working with the Flood Innovation Centre has already helped us to secure new work and allowed us to include sustainable drainage installation and installation of hydraulic monitoring systems as services that we can confidently offer."

Dan Roche of M.B. Roche Civil Engineering and Hiatt Jackson of the Flood Innovation Centre inspect ongoing sustainable drainage works
Although the Flood Innovation Centre project comes to an end on 30 June 2023, the University of Hull has a wealth of experience and facilities relating to flood resilience and all aspects of business support, which may be accessed via the Aura Innovation Centre. Aura staff act as a conduit to colleagues from the university's Energy and Environment Institute, the Faculty of Science and Engineering, the Faculty of Business, Law and Politics and more, to build a bespoke support team that meets your organisation's needs.
---