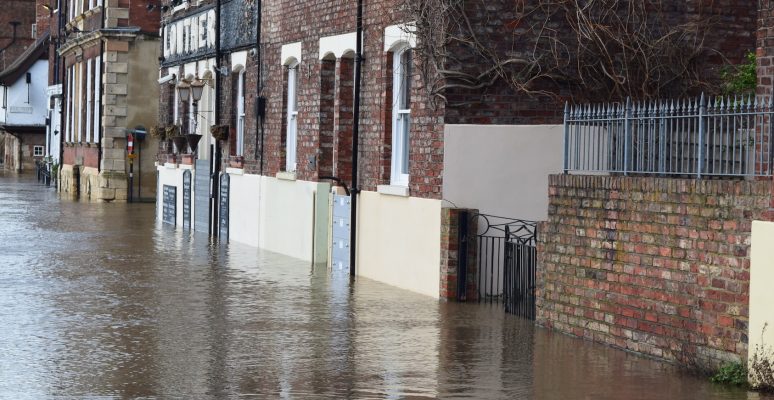 'Significant' financial benefits await businesses prepared to equip their workforce with property flood resilience knowledge
When Wayne Daley, a senior surveyor, heard about the free 'Introduction To Property Flood Resilience' course offered by the Flood Innovation Centre at the University of Hull, he jumped at the chance to sign up.
Having worked on hundreds of flood-damaged properties over the years, Wayne is acutely aware that there's a shortage of contractors with the knowledge and skills needed to help home and business owners protect their properties by installing property flood resilience measures.
Wayne, who is based in Leeds and works for Quantum Survey & Project Management, explained:
"We work in all areas of flooded properties, from the initial surveys right through to doing the repairs once everything is dry and ready to be reinstated. We have 75 contractors on our books that we can call up to do repairs and that gives us a good basis for expanding into property flood resilience installation."
Back in the early 2000s, I was involved with a building company that got completely overloaded with flood work simply because there were not enough trained contractors. The property flood resilience market was really struggling at that time as demand was high due to some major flooding incidents and contractors just couldn't keep up with it.
"Following the 2007 floods in Hull, there were simply not enough contractors with the knowledge to be able to reinstate the damaged properties."
Wayne believes that, for surveyors and building contractors who work on flood-damaged properties, learning how to install property flood resilience measures is a logical next step. He can also vouch for the fact that the financial benefits are significant for businesses prepared to invest the time in equipping their workforce with the knowledge and skills required.
He continued: "Over the years, we've started doing more and more flood repairs, including over £1 million worth of work for private clients in York, installing resilience measures that were funded by City of York Council via a resilience grant, and £1 million of work following a devastating two-hour flash flood in King's Heath, Birmingham"

"Because there's a shortage of contractors installing property flood resilience, this market represents a real opportunity for growth."

"I signed up for the course because it's nice to be championing property flood resilience and leading the way. I'd like to pass on the knowledge to our contractors and get some of them on the course too. If you've completed a course on property flood resilience, why wouldn't you promote yourself as a specialist contractor? You then have an opportunity to market your services in areas where flooding is known to be an issue, as well as a chance to help ensure that new homes are built better in the future to protect them from flooding."
Book onto the Flood Innovation Centre's FREE workshop programme – An Introduction to Property Flood Resilience (PFR) and hear about opportunities in this growth market from property flood resilience experts
---